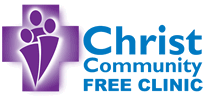 I was sick, and you looked after me....Matt 24:36
How You Can Help
Christ Community Free Clininc relies on the generosity of many volunteers, donors and community supporters in order to provide health services to the uninsured and working poor.
If you would like to join in our efforts there are many ways you can help:
- Make a Cash or In Kind Donation - (see wish lists below)
- Link Your Fred Meyer Rewards Card with the Community Rewards Program ~ CCFC Program #83379
(Earn Donations and Keep Earning Your Points When You Shop)
- Attend a Fundraising Event
Christ Community Free Clinic is a 501(c)(3) tax-exempt organization. Contributions are tax-deductible as allowed by law.
Contributions can be mailed to:
Christ Community Free Clinic
PO Box 908
Auburn, WA 98071-0908